COVID SAFE practices are in place for your and our well being. You will be asked to provide your adress details up on booking. You will be given the opportunity to self check in since all payments, deposits and balances, will procede online. We are both fully vacinated.
Nestled between the rolling hills of the Huon valley you will find Eden Farm on the outskirts of Cygnet Our 40 acre farm is a comfortable country hideaway for families, couples or small groups - accommodating up to 9 people ( plus room for additional cots )
The farm, originally used for only the apple production, is now a lovely blend of fresh produce, small orchards and paddocks with a variety of friendly farm animals. Eden Farmstay offers guests the chance to get up close and personal with the all animals, there is quite a range from the humble chicken to "Thor" our magnificient friendly Highlander bull.
At Eden Farm we make our own raw unfiltered apple cider vinegar, great artisan cider and hand made goat soap which is available at our reception where you can also get advice about the many attractions on offer in the South of Tasmania.
Guests will spot many native animals while strolling over the farm and might even glimpse our resident platypus in one of our dams. The farm is all about relaxing, getting back to nature and reconnecting with your family. Wake up to the fresh country air of Tasmania, it is country living at it`s best.
Eden Farmstay more then just great accommodation. Give us a call next time you plan to holiday in Tasmania. We look forward to your visit. Your hosts Jolanda and Matthew Hall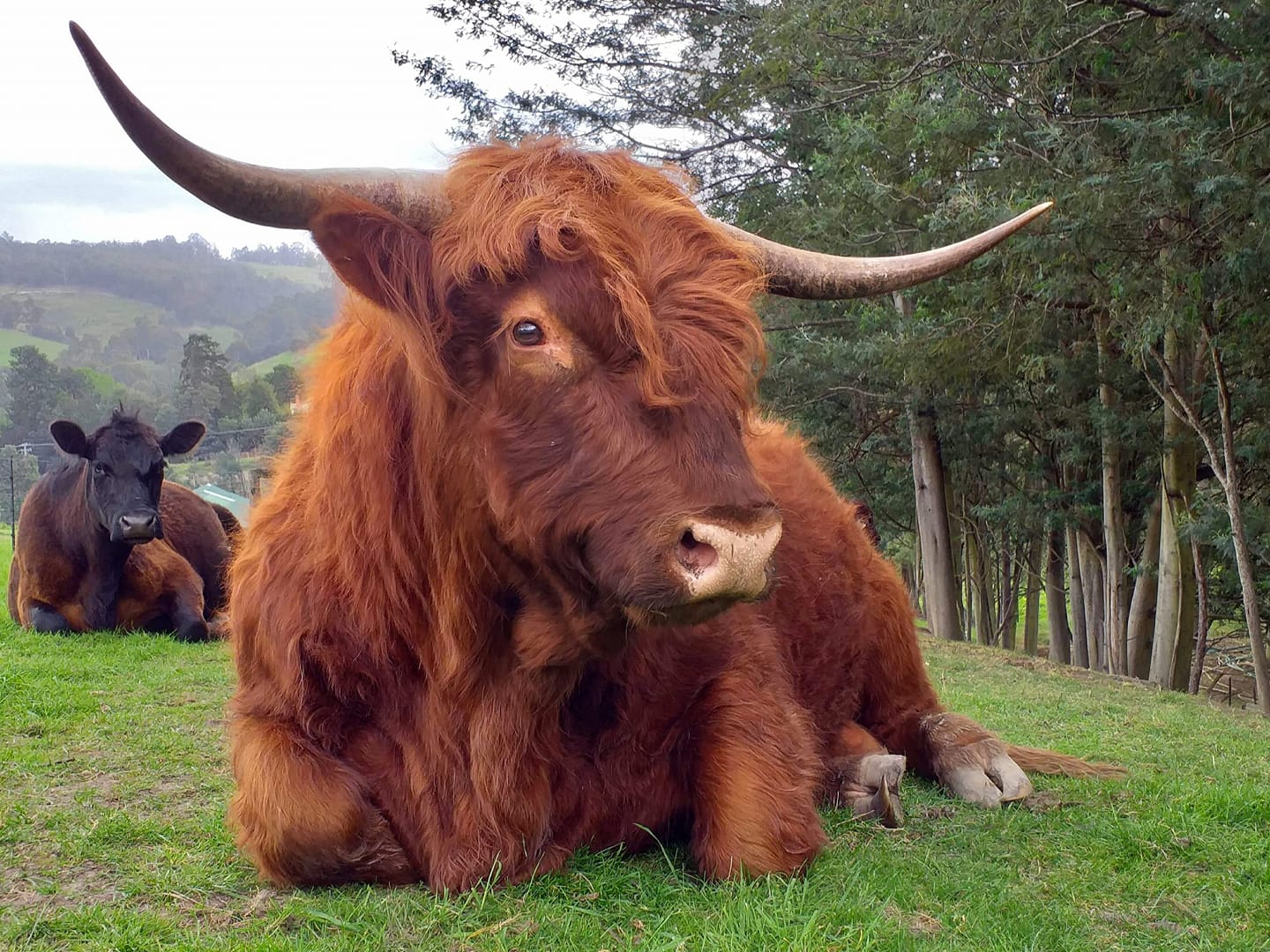 My family and I, 7 of us including 2 young children had an excellent 10 night stay in the Farmhouse.

The farmhouse was so homely and comfortable, it had everything we needed and more.

The hosts Jo and Matt were so welcoming and friendly, Nothing was too much trouble.

Our 3 year old absolutely loved feeding the animals every afternoon, and if he slept late Matt would leave some food to give the animals when he woke up. We loved picking Blackberries and apples, the fireplace, staring out the windows at the beautiful views, and the beds were very comfortable. We look forward to returning the next time we come down to Tassie ! 🙂

Highly recommended! The kids adored feeding the animals every day and we could not have asked for a more friendly, kind and patient host. The kids were full of questions. I loved having the convenience of a comfortable house. Everything was just perfect, including breakfast, pantry staples, games and toys for the kids and the much needed chance to catch up on some washing and make some home made meals. The area is so beautiful, with much to see and do, but it was also nice to hang out here and let the kids play and relax. Perfect time of year to visit during berry and cherry season, enjoyed some beautiful warm weather

This must be the best farmstay I have ever stayed. Friendly owners, great lodging and so many beautiful animals. The chickens came to visit us every single day. Loved every minute of it. Thank you so much. Highly recommended for all to come and experience the farmstay. ☆☆☆

Beautiful location

Such a tranquil part of the world. Very peaceful, and it is fun to feed the animals. Close to Huonville and Cygnet with all the shops and cafes you need. Only 1 hour drive from Hobart. This would be great for families with small kids.

Free Range Farmstay

My children enjoyed their stay at Eden for the owners' easy going approach of letting guests feeding the farm animals outside the feeding sessions. My 10 and 5 years old chased the chooks, carried the hare, plucked apples from the trees and ate them under the apple trees, gave to the pigs and cows. For me, I like the well kept guest house. Eden itself is located in a beautiful part of Tasmania.

An Annual Family Favourite

We LOVE this place! Last year we stumbled across this gem and, while we'd like to keep it a secret, it really does need to be acknowledged. :) Matt and Jo are incredible hosts who make you feel so welcome on their beautiful farm. Our kids talk about it consistently and we reminisce by calling out "Alfie! Hilda!" every time we pass a herd of alpacas. We never missed feeding time no matter how deep we were in the Tassie wilderness and it was so relaxing to let our kids go as free ranged as the animals. This place is great for individuals and families who are seeking a place to ditch their beeping devices and spend some time getting up close and personal with animals.